More and more women are up to getting body enhancement or body contouring all over the world, including the Philippines. It could either be breast augmentation, rhinoplasty, liposuction, or tummy tuck.
The reason behind why women go through these procedures is that often they want to achieve an hourglass shape: perfect breasts, thin waist, thick buttons, tight skin, and so on. Having such a figure gives them more self-esteem and confidence. This helps women gain more courage to wear the dress that they like, meet new people, and also helps them feel younger.
Further than that, women now understand that there is nothing wrong with body contouring. Long gone are the days that there is hesitation to undergo plastic surgery because of the stigma surrounding it. There are several reasons why women go through these procedures, not just vanity. It could either help them psychologically or as simple as self-benefit.
Not only do other countries have followed the trend, including Filipina women have shown interest in having body contouring procedures. Not only models and celebrities are fond of these procedures, but also everyday women who seek to improve their figure. As a result, many enhancing clinics are now readily available for women who seek body enhancement.
Dr. Caparas and Zi Institute of Plastic Surgery and Dermaesthetics
One of the clinics in the Philippines that is known for providing services such as breast augmentation, liposuction, and tummy tuck is the Zi Institute of Plastic Surgery and Dermaesthetics. Zi Institute has been helping patients achieve their beauty desires for over two decades. The clinic is owned by a well-experienced plastic surgeon, Dr. Lutgardo Caparas Jr.
Dr. Caparas is a member of the Reconstructive and Aesthetic Surgeons, Inc. (PAPRAS), a member of the Board of Directors of the Philippine Association of Plastic, and a fellow at the Philippines College of Surgeons (PCS). He is also an active member of the International Society of Aesthetic Plastic Surgeons (ISAPS). Aside from all that's been mentioned, Dr. Lutgardo Caparas is also a member of more medical organizations, which makes him a trusted plastic surgeon locally and internationally.
Zi Institute of Plastic Surgery and Dermaesthetics is accredited by the Department of Health and the Department of Tourism, which assures patients that the clinic is safe for operation.
Even after the pandemic, Zi Institute made sure to open its doors for patients who seek body enhancement. However, due to travel restrictions, many are unable to visit for initial consultations.
That's why Breast Surgery PH teamed up with Dr. Caparas and Zi Institute to bring its audiences Body Contouring 101 Live last June 25. This is a live Q&A session, done through the official Breast Surgery PH Facebook Page. Here, Dr. Caparas tells everything you need to know about body contouring and answers some common questions about these procedures.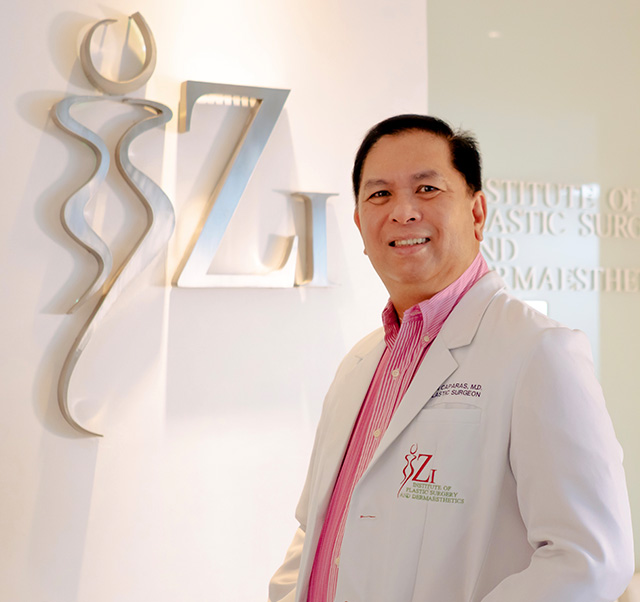 Body Contouring 101 with Dr. Lutgardo "Jun" Caparas Jr.
Here are some of the highlights from the said Facebook Live event. Included here are some of Dr. Caparas' insights and information that people may want to be aware of regarding body contouring.
Q: Can you give us a brief explanation about body contouring?
Dr. Caparas: After weight loss from diet, post-bariatric surgery, and pregnancy there would be loose skin. Body contouring procedures tend to address these loose skin. It would remove excess skin and tissue. Or also finetune in existing skin types, which include liposuction, breast augmentation, breast lift, breast reduction, and tummy tuck. And all the [types of] lift, like arm lift, thigh lift, and Panicolectomy. The result will be fine tuning of the damaged skin and tissue excess.
Body Contouring is mostly done for those people who need solutions under conditions like, sagging skin from weight loss, post-bariatric surgery, and pregnancy.
Q: How does body contouring differ from liposuction? Are they safe and painless?
Dr. Caparas: As I've said earlier, liposuction will fall in one of the categories under general body contouring. When you do liposuction, you contour the body. You contour the shape that the person would want.
As for the question of, is it safe? It is very safe. It is done by trained and qualified plastic surgeons.
And, is it painful? Normally, I do this depending on the area. If it is a small area, I do this with local anesthesia. If it is a big area, I usually do this under sedation. So it is painless under the procedure. Recovery wise, probably under the first three days, it can be sore. If you're going to rate it, it will be probably around 4 out of 10, as 10 is the most painful. The only pain you will feel under liposuction will be the change of position or when we touch the liposuction area.
Body contouring procedures are safe when done by surgeons who are trained and qualified to do plastic surgery. As per Dr. Caparas, he is a member of several plastic surgeons organizations. Those are also the pointers that assure patients that he is a well-practiced and certified plastic surgeon.
Q: What is the benefit of body contouring?
Dr. Caparas: Finetune the shape of a person. Normally, it is done as what we call a massive weight loss. We are going to remove the excess, including the tissue beneath it. To contour the body, there will be a lot of procedures. It depends on the needs of the patient. So when you say body contouring it can take a lot of procedures. It can also be tailored to what the patient needs.
Getting an operation that involves body contouring depends on the condition of the patient. Whether it is to fix loose skin from weight loss or pregnancy, body contouring, as mentioned by Dr. Caparas, can be tailored to the patient's needs. For example, if a tummy tuck is more necessary than liposuction, then the Doctor would advise having a tummy tuck operation aside from liposuction. Body contouring also includes other procedures such as breast augmentation.
Q: Can I use my fat to enlarge my breast, butt, and other parts that I want to look bigger?
Dr. Caparas: Yes, that is what we call fat transfer. The problem of fat transfer now, for example into the breast, [is] when we put fat into the breast, shape it, but then the problem with fat is the shape and the size will vary. Because 40 to 50 percent of fat inserted will absorb after some time, it can go small.
With the breast, there is such a thing as a mammogram, and all women know about this. If the patient's mammography is not good, they might detect the injected fat as a possible sign of cancer.
Nowadays, using fat grafting to enhance breast and butt's shape and size has become a trend. They say it doesn't cause harm to the patient and doesn't require the use of implants. However, as for breast augmentation, Dr. Caparas shared how one of his patients was told to have signs of breast cancer because of her breast which was done by fat grafting. With that being said, undergoing fat grafting has its risks too. And when it comes to long-time results -because it is from the patient's body fat – it cannot assure if the size and shape will be stable through time.
Q: How do you suggest which body contouring procedure is right for the person?
Dr. Caparas: You should tailor it to the patient. Like massive weight loss, after weight loss, the breast will sag. After pregnancy, the abdomen and fat will sag. It depends on what the patient will need and what my recommendation will be.
Q: Do I need a psychologist before getting a procedure?
Dr. Caparas: In the first part of my practice, most of the patients will come to me. But as I gained experience I started rejecting patients. Because there are patients who expect beyond expectations. So seeking a psychologist, I don't think so… Because of the consultation alone, a practiced plastic surgeon can sense if the expectation of the patient is beyond normal. These are patients you need to reject upright.
Q: Is there an age requirement before going through the procedure?
Dr. Caparas: My youngest is 17 going 18. She is a model that's why she needed the procedure. The oldest I did was a 68-year-old, in terms of breast augmentation. I don't do younger than 15 because the breast is developing at that age. I still go for the age group 17 and above.
Getting a procedure needs at least to be at the age of 18, especially with breast augmentation. As mentioned by Dr. Caparas, he mentioned that women under 18 or 17 years old don't have developed breasts yet.
Q: How will our breasts look when we look older and have breast implants?
Dr. Caparas: It will still be the same, especially when you're an A cup. You will look the same after pregnancy. You will look the same when you become a senior [citizen]. But when you're a B or C it will get bigger because I have put the implant beneath the muscle. There is a breast above it, so after pregnancy, it will sag a little. So, what I do is the lifting procedure.
But if you're just an A or B- and you had your implants at the age of 20s- when reaching the age of 50 or 60 and you did not gain much weight, it is still the same. But if you gain weight it will look big. Why? Because the breast is not only made of breast glands but also fatty tissues.
Q: Is it okay to undergo breast augmentation even after breastfeeding for years?
Dr. Caparas: Usually, we wait until the patient will stop breastfeeding… My protocol is after breastfeeding, which is one to two months. With that time the breast will get back to the normal size.
Q: Are Motiva Implants® natural-looking in breast augmentation?
Dr. Caparas: Yes, it is. As long as you're not putting the very big one… Even if you have a normal big breast, and you want to put a big one, definitely it will still look roundish. If you put a Motiva Implant® into the breast, as long as you are guided by the breast volume, it will look natural.
Dr. Caparas also mentioned how smooth implants can prevent the causes of ALCL or anaplastic large cell lymphoma. Unlike traditional textured implants that are more prone to conditions alike, Motiva Implants® is a 6th generation breast implant evolving its practices from traditional smooth-textured implants to this advanced smooth alternative for its innovative technology, implant softness, and safety.
The Motiva® Round, same as other Motiva Implants®, are made with TrueTissue Technology. This allows the gel inside the implant to move naturally, due to the combination of a unique elastic elastomer and the rheological properties of ProgressiveGel®, which also minimizes the chance of implant rippling. The great features of Motiva® Round implants are balanced gel elasticity and firmness, increased upper-pole fullness, a younger active look, and fullness profile.
As Dr. Caparas has mentioned, if patients follow the advice of the doctor regarding the implant size that will match their body frame, implants can provide results that can meet expectations. Motiva® offers a wide range of implants of various sizes and projections.
Q: What are the things to consider before body contouring?
Dr. Caparas: Number one, consider the right doctor. A doctor who is trained and qualified. The first surgery should be the best surgery. A good result the first time might entice the patient to do another procedure. Number two, she should go under the battery of tests, or the doctor will be able to fully assess. Number three, a good consultation. For the doctor to explain the good and bad points of a particular procedure. And lastly, I really ask them to undergo a cardio-pulmonary assessment.
There are a lot of factors to consider when getting a procedure. And the first thing Dr. Caparas would like to highlight is choosing the best surgeon. Aside from getting satisfying results, it is also important to keep in mind that being handled by a certified and qualified plastic surgeon saves you more than choosing cheaper alternatives.
Body contouring is often done nowadays, especially after the pandemic hit. People had more time to reward themselves with surgical and non-surgical surgeries to help themselves become more confident. It also helps to regain their sanity because of how the pandemic has affected their mental health.
Despite the pandemic, Dr. Caparas makes sure they continue to follow safety protocols for those that are interested in having a body contouring procedure. Including RT-PCR test, wearing of masks, and social distancing.
So, if you are interested in booking a consultation with Dr. Caparas and Zi Institute, you can visit their website here.
Also, if you want to watch the full version of the Body Contouring 101 Live, you can watch the full version on the Breast Surgery PH Facebook Page or visit our official website.
Get in Touch