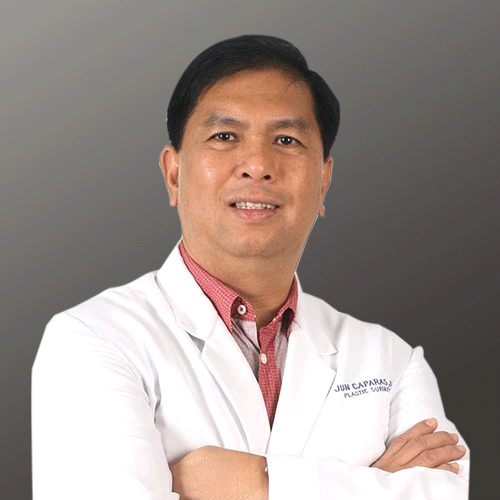 Plastic, Reconstructive, Aesthetic Surgeon

Aurora Boulevard, Santa Mesa, Quezon City
Dr. Lutgardo Caparas Jr. has been active in the field of plastic and cosmetic surgery for over two decades now. He is at the helm of his own medical clinic, Zi Institute of Plastic Surgery and Dermaesthetic. The clinic is a Department of Health and Department of Tourism accredited facility. It is internationally acclaimed for using quality and innovative techniques in aesthetic and reconstructive surgery.
He is also affiliated with several medical facilities like the Belo Medical Group, UERM Medical Center, Dr. Jesus Delgado Memorial Hospital, Skinhealth Inc., and Diliman Doctors Hospital.
Dr. Caparas started his career when he got his degree in Medicine and Surgery at the University of Santo Tomas, in 1984. He passed the Medical Licensure Examination in 1985 and received training in general surgery at the Veterans Memorial Medical Center. In 1994-1996, Dr. Caparas had his plastic surgery training in four medical facilities: Veterans Memorial Medical Center, UERM Memorial Medical Center, Makati Medical Center, and Rizal Medical Center. He received additional training, at the King's Daughter Hospital in Virginia, USA, under a physician training program in craniofacial surgery, in 1998.
Dr. Caparas passed two diplomate examinations: Philippine Board of Surgery in 1992 and the Philippine Board of Plastic Surgery in 2001.
Now, he is an assistant professor to future doctors at the University of the East Ramon Magsaysay Memorial Medical Center, Department of Surgery. He is a training officer in the hospital's Section of Plastic Surgery. Dr. Caparas has also published several research papers, sharing his expansive knowledge of aesthetic and reconstructive surgery. He is also an examiner for the Philippine Board of Plastic Surgery.
Dr. Caparas is a member of the Board of Directors of the Philippine Association of Plastic, Reconstructive and Aesthetic Surgeons, Inc. (PAPRAS). He is also a fellow at the Philippine College of Surgeons (PCS) and an active member of the International Society of Aesthetic Plastic Surgeons (ISAPS). Dr. Caparas is a member of several more organizations like the Philippine Medical Association and the Philippine Society of Burn Injuries.
Aside from practicing in his own clinic and being an educator for future doctors, Dr. Caparas is also a senior volunteer for Operation Smile and Philippine Band of Mercy, non-profit organizations that provide free facial reconstructive surgeries to children and the less fortunate in the country.